Elanza Media™ Outdoor LCD Digital Signage Kiosks provide unparalleled luminance in the most challenging and difficult outdoor environments. Complete with a induction built-in cooling system and core aluminum frame, these Outdoor LCD Kiosks are able to perform at upto 99% humidity and 75⁰ Celcius temperature levels.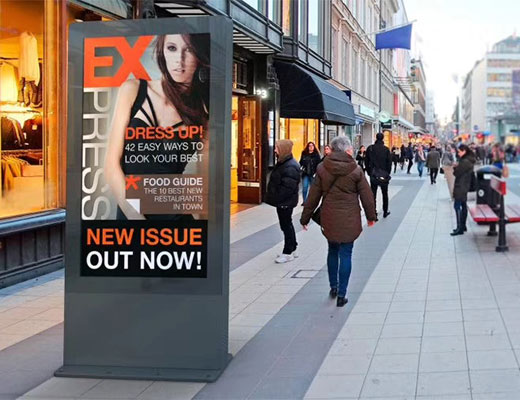 Eight Core Technology
Structured design, high definition and high brightness (upto 4000 NITS) , video processing, environment monitoring management system, intelligent temperature management, play control, networking control system, cloud platform management system.
Temperature Control Management
Choose suitable solutions for temperature control according to the regional temperature environments and the placement position of the product; Product designed for simulated analysis of heat dissipation; Intelligent temperature control ensures reliable operations even during peak conditions.
Intelligent Broadcast control system
Intelligent environment control: remotely controls device through the Wifi or4G/5G network; additional support for screen monitoring, real-time remote monitoring of temperature and humidity, over-temperature warning and protection, power management, remote timer switch, remote wake up, access control and vibration alarm.
Technology: XD- LCD Panels, FHD Resolution, Android 7.1 ++ or Windows 10, Built-in Media Player with 64/128 GB Memory.
Installation Mode:  Floor Mount (Multiple Design Options)
Application Areas: Outdoor – Shopping Malls, Educational Establishments, Auto Dealerships, Airports, Banks & Financial Institutions, Parking Garages, Corporate Offices, Stations, Metro Platforms, Restaurants, Retail, and much more